I confess, doing biographies on yourself was never in my comfort zone, and I attached the material below from the standard issue I use for board seat web pages and speaking engagements, with the bit about pianos thrown in for the benefit of this particular site. But in general, I became interested in early keyboards while still in college, having encountered a kit clavichord that a physics professor had made, and subsequently bumping into the extraordinary pianist Raymond Dudley who was gracious enough to help properly introduce me to the world of the early fortepiano. A kit-built Zukermann Flemish harpsichord in 1980 and conversations with David Way sealed the deal, but with the advent of the internet, the exposure to early pianos and English square pianos really took me to a new level. I have been actively building copies, and researching and restoring the early antique pianos since 1998, making me a novice yet. Paul Polletti has stated that he did not begin to really understand the builders art until about his 15th fortepiano, and in that I concur. Once I have my 10,000 hours in, I might know something about the subject. Until then, this site works best when I hear from those of you out there who have paid your dues. For you I make available these pages, to record what we know about the technology of early pianos, and particularly those early squares!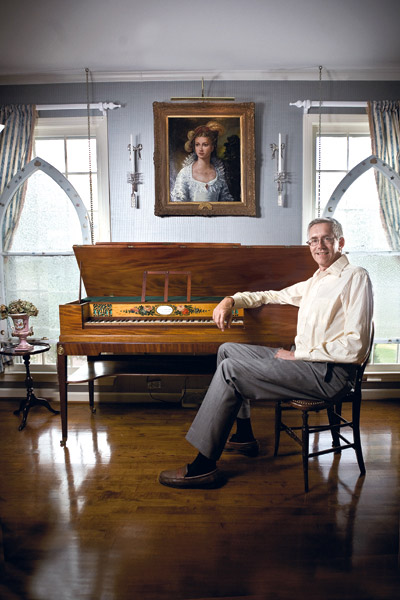 Please find me at medlytic@aol.com
******************************************************************************************
Thomas Strange has an extensive background in materials science, and is the author of forty three patents and numerous papers over the last two decades, covering all aspects of capacitor development, with an emphasis on foil development for aluminum electrolytics.
Now 15 years at St Jude Medical in Liberty SC following a successfully managed buyout, Strange and his team are introducing new technologies that continue to define state of the art in implantable medical devices for both pacing and arrhythmia correction.
In 1998, Strange was the recipient of the St. Jude Medical Hendrickson Award for his work on development of flat capacitors.
On November 6, 2001 he and his research team were awarded the 2001 InnoVision Award for technology development in the upstate of South Carolina.
In 2002, Strange was appointed Economic Ambassador for Pickens County by Governor Jim Hodges.
Strange has presented numerous lecture/concerts on early piano development and is a builder and restorer of early keyboard instruments. An article on the life of early square pianoforte builder John Geib was published in Eighteenth Century Music, March 2010.
Strange was inducted into the St. Jude Medical patent hall of fame in 2005. He also Chairs or serves on the board of directors for:
Tri-County Technical College
Past Chairman – Pickens Chapter of the American Red Cross
South Carolina Research Authority
SC Launch!
InnoVision Technology Awards
Past President – Greenville Art Museum Association