Often pianos turn up missing fret work in the back corner or name board, and it is a shame not to be able to replace it with something appropriate. Here we will try to bring you some representative samples of name plaques, fretwork, and other interesting details, so check the list and scroll down for the appropriate object. Please ask if you need higher resolution as it may be available!
We really need submissions from the community. A great way to capture details is to put the name board on a flat bed scanner and scan at a suitable resolution then crop, but we will accept camera work of installed details if you will work for reasonable flat lighting and a dead-on right angle to the object in question.
Square pianos are about so much more than a keyboard and strings, that it would serve the community well if we can present some of the detailed features to be found on typical squares. These features are often a guide to the period as well, helping date instruments that are devoid of identifying serial numbers, or from the less well documented makers. On this page you will find scans of the elaborate fretwork common in the Southwell patent-inspired ventilators in the nameboard and right rear wrestplank, pedal legs, bolt covers, and more.
If you have been waiting for the right subject to tempt you to submit material, this may be the page! We need good scans/photos/drawings of the usual, and the unusual, decorative features you find on square pianos. Grab your scanner or camera and prepare to help us out!
Sometimes Broadwood squares from 1780 to about 1800 turn up missing their little label in the back. Email us for a high resolution version of this which you can print on a laser printer and apply with hide glue. Makes a convincing

Broadwood began using the Southwell inspired fretwork ventillator in the first decade of the 19th C. From 1808, courtesy of Colm O'Leary, we present this example below.
1812 Broadwood square fret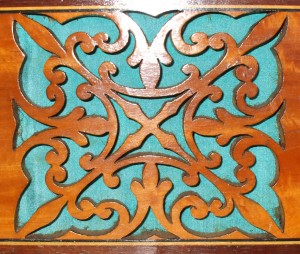 A 1785 bolt cover for a Longman and Broderip square. Patera can be replaced very easily, so careful inspection of style, markings, wood fading and scratch marks are the best, but not perfect, way of identifying originals.
From 1791 we have the name plaque for Longman and Broderip
From 1796 Colt Collection nameboard vent for L&B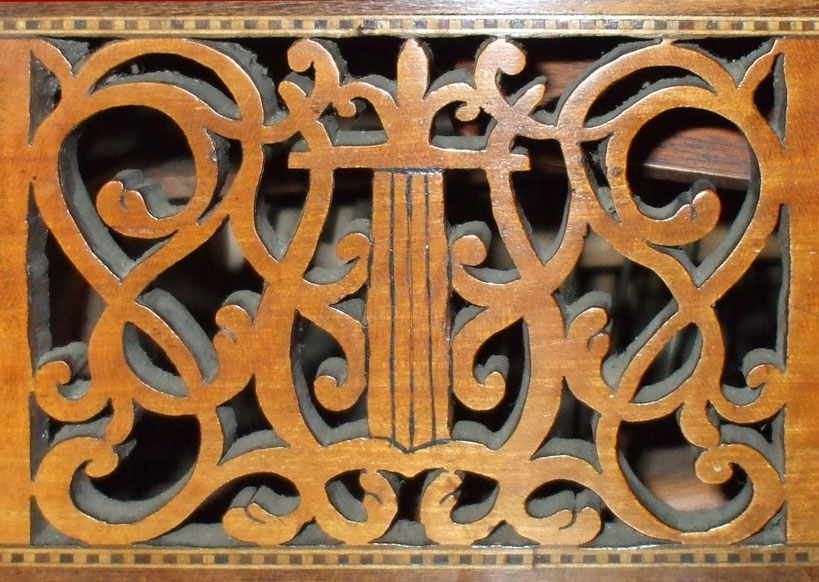 From ~1799 we have the nameboard fret for a Longman & Clementi, which design was in use for al least the next decade.
And the right rear corner
And name plaque for same –
With left and right hand florals
  C.1820 Clementi fret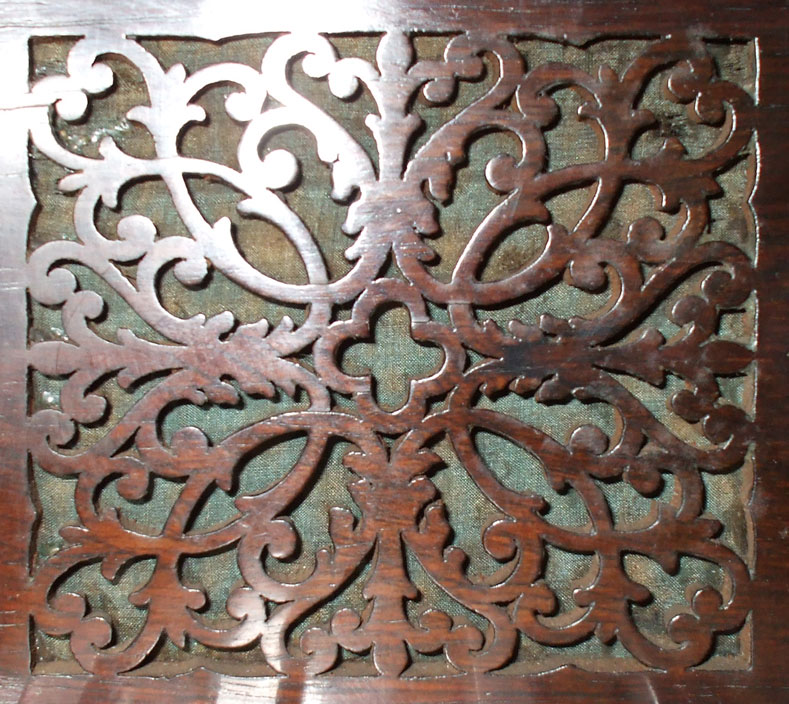 Regency Clementi fret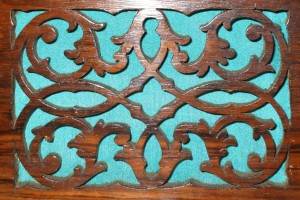 William Southwell rear fret