The square piano can be found in art, from its beginnings, to later squares and 'romantic' reflections of an earlier period, particularly from the late 19th and early 20th century. Below we bring you a short selection of art that places the square piano in various domestic situations.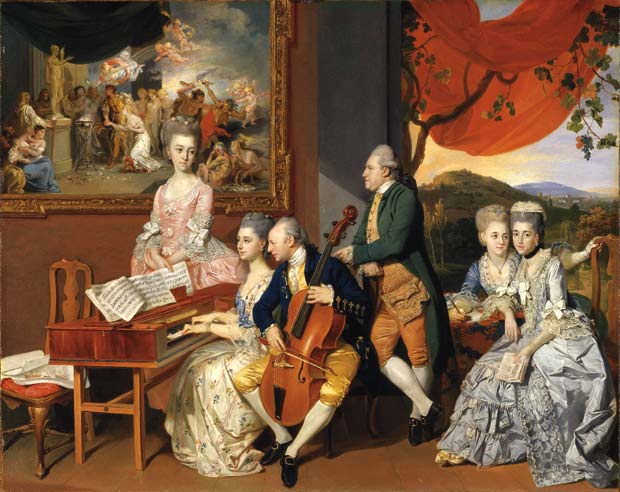 Johann Joseph Zoffany gave us a number of fine paintings of family groups, and we begin with the painting from 1775-76 of the Gore family with George, 3rd Earl Cowper. The square piano is so well represented here we can be fairly certain we are looking at a Zumpe, though perhaps it is fair to say that Frederick Beck or Johannes Pohlman is also a possibility.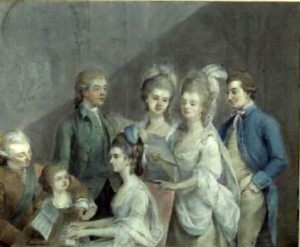 A small painting of a musical family by Zoffany (no other information available to me at this time) features a similar piano and more informal grouping.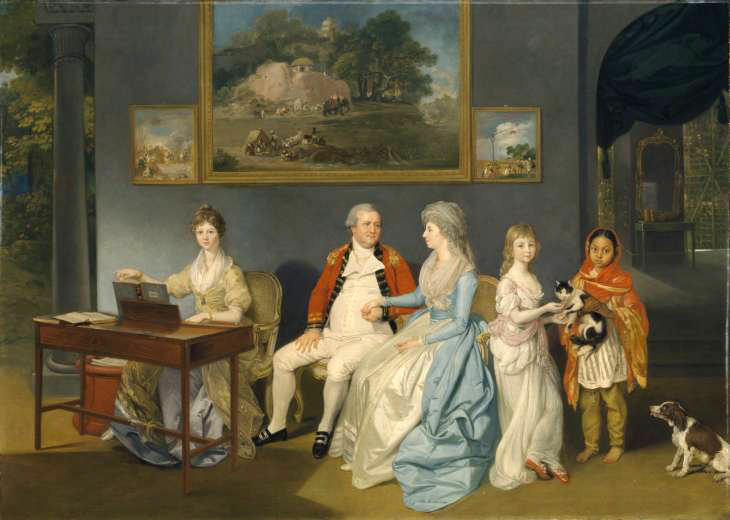 The family of Colonel Blair is presented here "Col. Blair with his Family and an Ayah in an Interior" at Cawnpore India, at a very small square piano or possibly a clavichord, made while the artist was in India. In this instance, the stand may be meant to be a trestle stand but is unlike any extant specimens, and seems to be in the nature of an apron stand, though the front of the instrument projects beyond the stand front. Given how well Zoffany captured the Gore family instrument, we must assume he was in front of an actual keyboard here as well.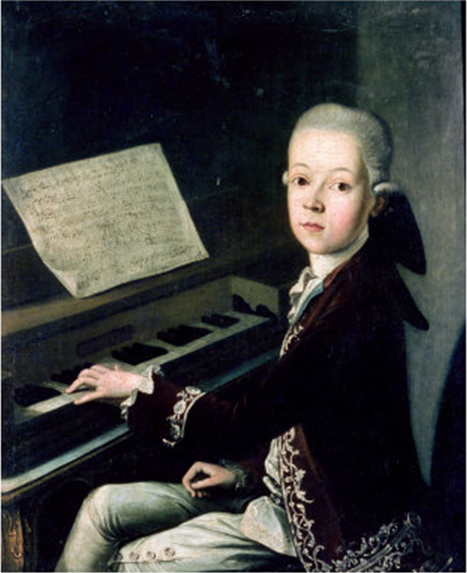 For many years thought to be a painting of the young Mozart, we have here Carl Graff Firmian as a child prodigy, at a square piano or clavichord. The cabriolet leg that is showing, and a date for the painting of circa 1770, might give weight to the clavichord theory, but note the English style keyboard with ivory naturals. Likely an early square.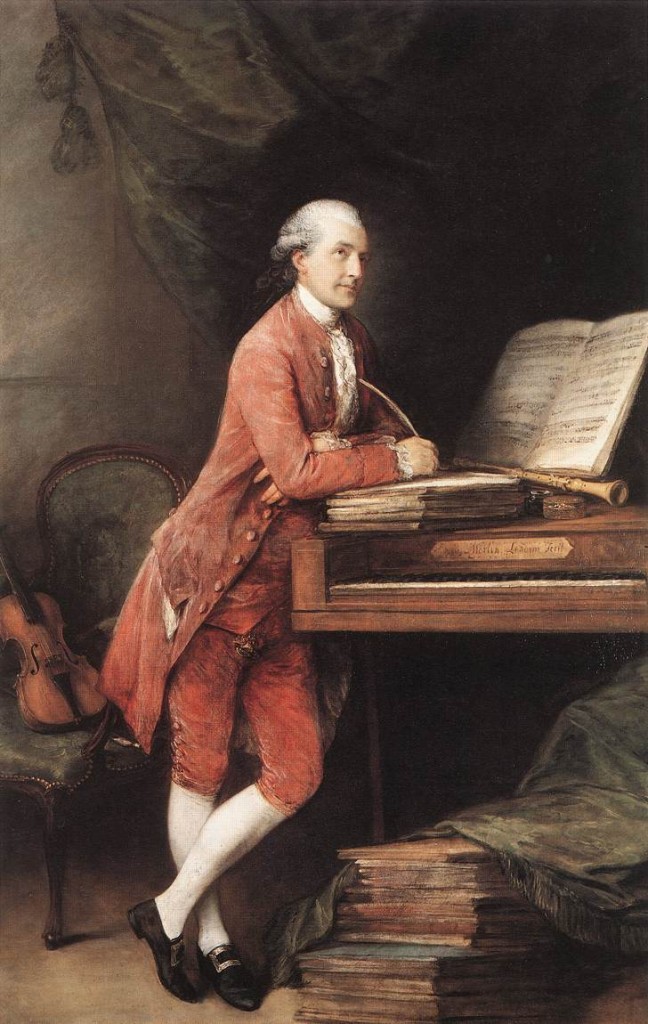 From the great English artist Thomas Gainsborough, we have a portrait of the German composer Johann Christian Fischer, 1780 ca. The square piano is from the shops of Joseph Merlin, and note the exceedingly long legs, designed to be played while standing. Merlin was ever the inventor.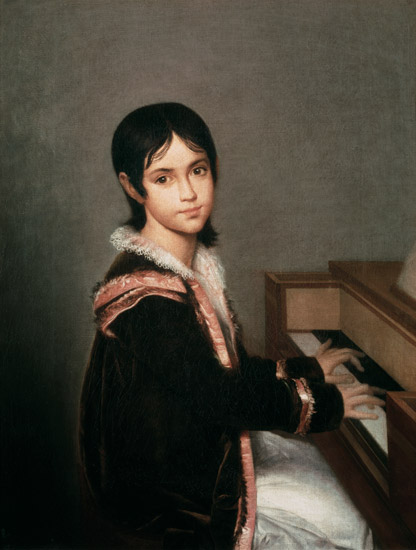 Domingos Antonio de Sequeira – "The Artist's Daughter at the Piano" gives us a young girl at a square piano from the turn of the 19th century. It is distinctive for the simplicity of treatment and straightforward narrative. I suspect the piano was a favorite activity for this young lady!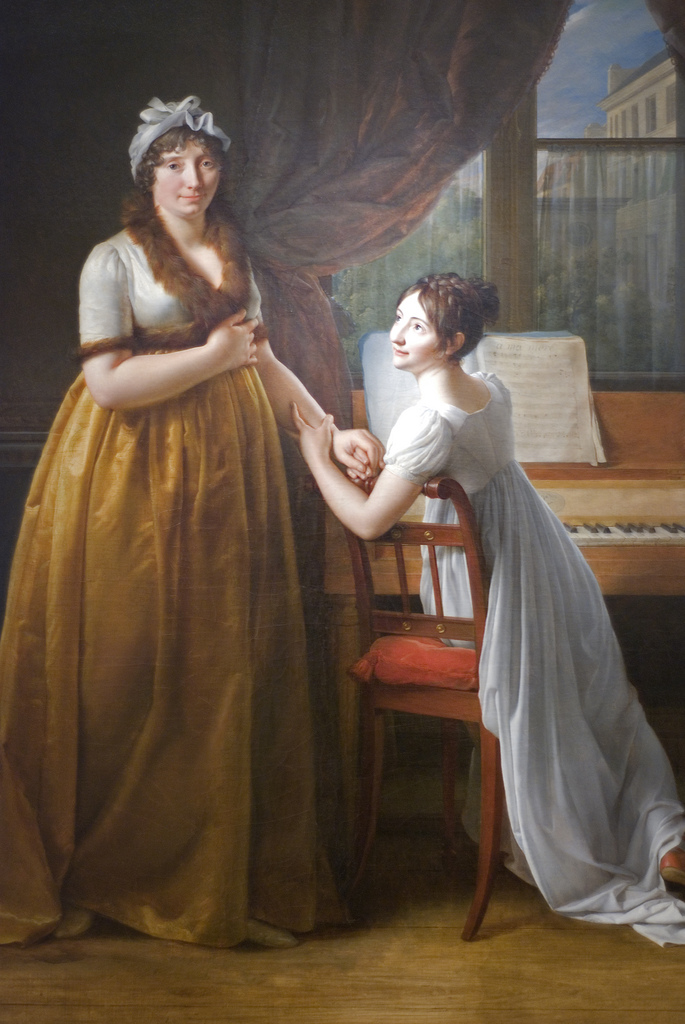 Comtesse de Morel- Vinde and her Daughter (The Music Lesson), 1799 (Detail) by the artist Baron Francois-Pascal-Simon Gerard (no relation to Marguerite Gerard below).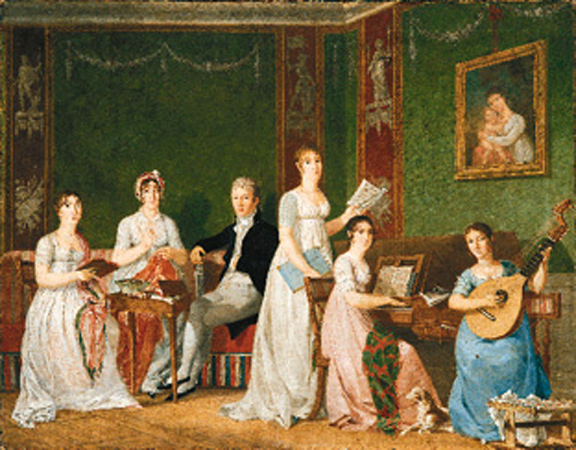 Family gatherings at the piano were popular over all of Europe, as we see in this anonymous painting from Sweden in the early 1800s.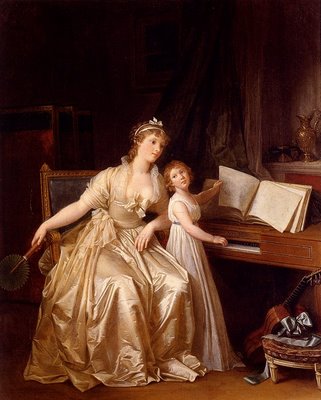 Marguerite Gerard's "The Piano Lesson" of ~1780 features a young mother and child in a somewhat romanticized domestic setting of learning the piano. The lid is fully closed, but a music desk is obviously provided for the little square in question.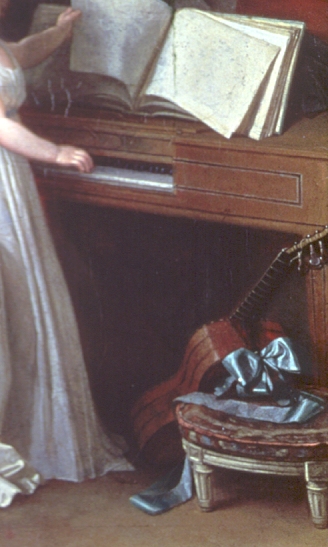 A detail allows us to speculate that this is possibly a Ganer piano.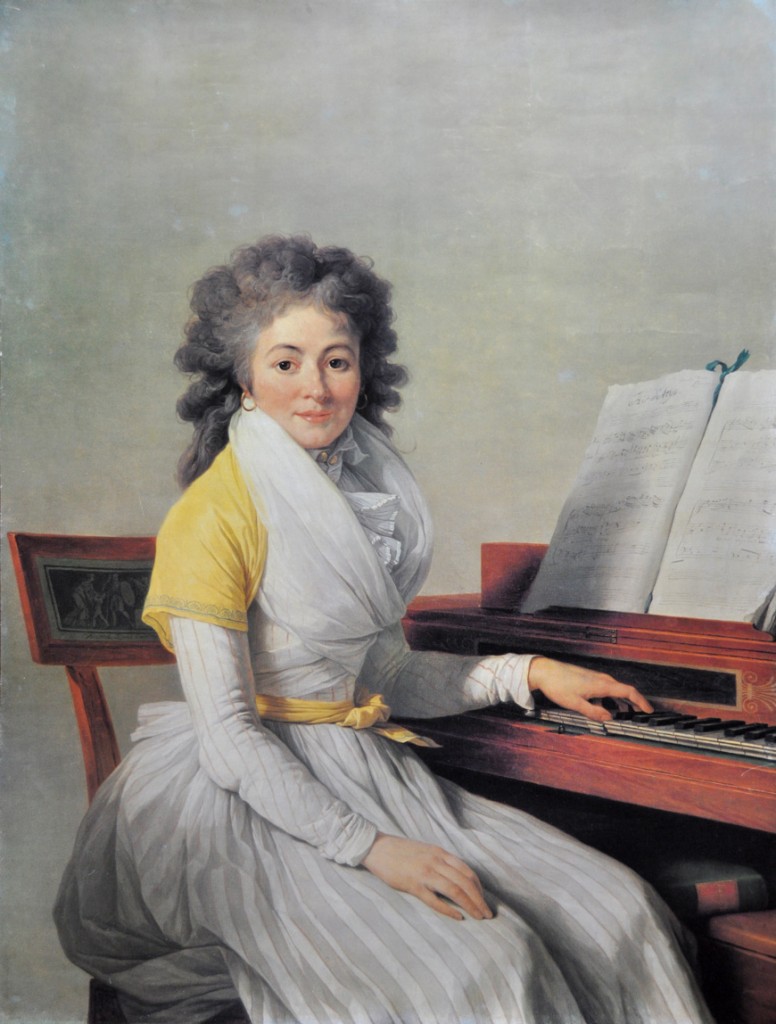 François-André Vincent is responsible for this elegant painting of Rosalie Duplant, the famous Opera star, seated at her Mercken square piano in 1793. The music is titled Air d'Atys (celle de l'Atys de Piccini et sous le clavie).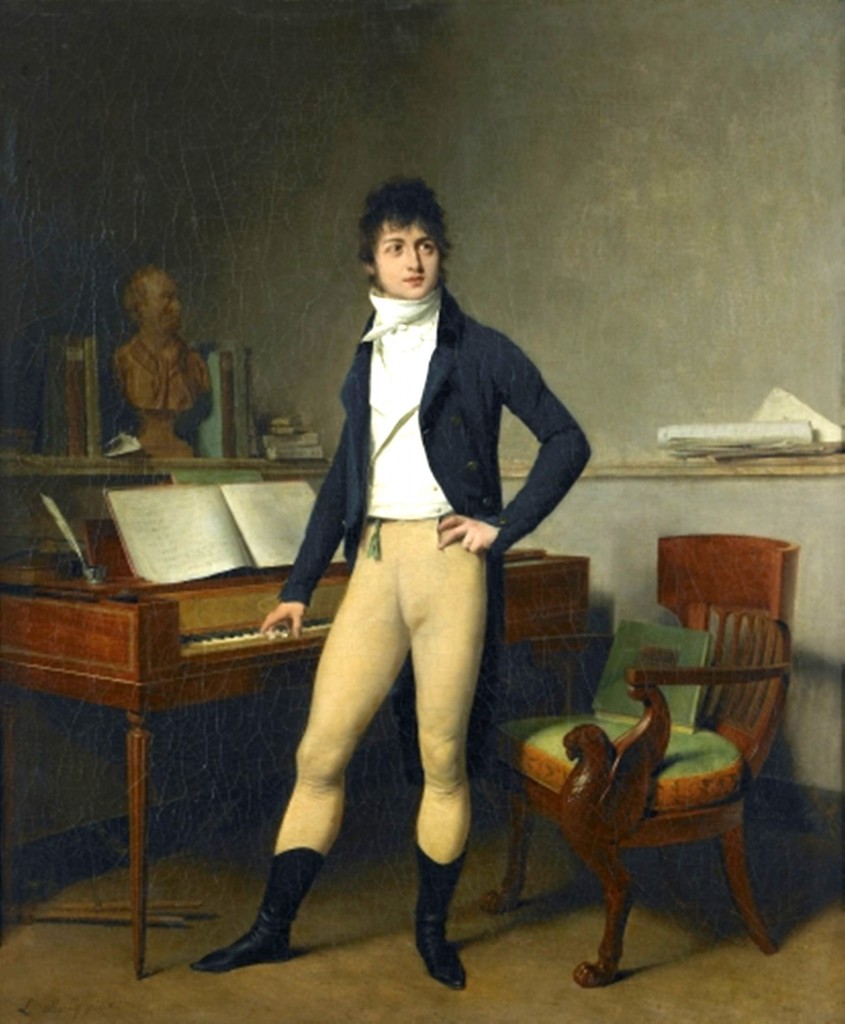 French composer Francois Boieldieu by Louis-Léopold Boilly, ca. 1800. The Piano is also reputedly by Mercken, but may well have been by Paul G. Dackweiller.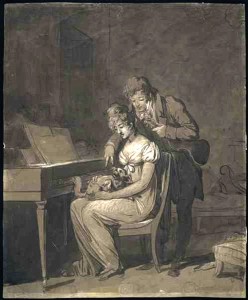 A watercolor by Boilly "Grand Repos Pendant Lecon Musique Lille" a long rest for Lillie from her music lesson.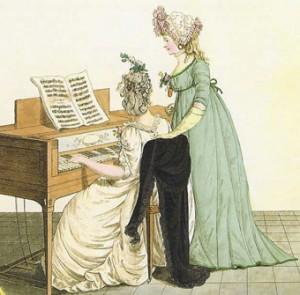 Contemporary illustrations for magazines would feature such illustrations as the regency styled ladies at their music as seen in these two examples.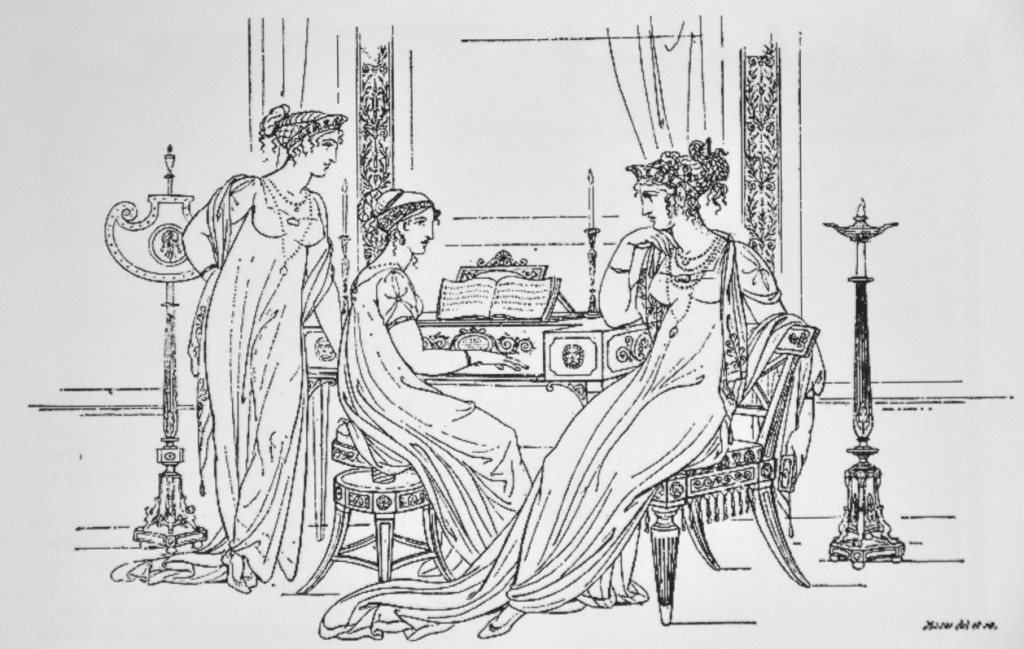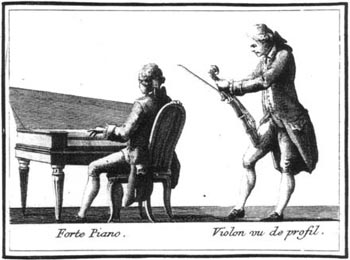 A handsome pair, intended for instructional use, we are tuning the violin to the piano (as the other way around is at least and hour's job)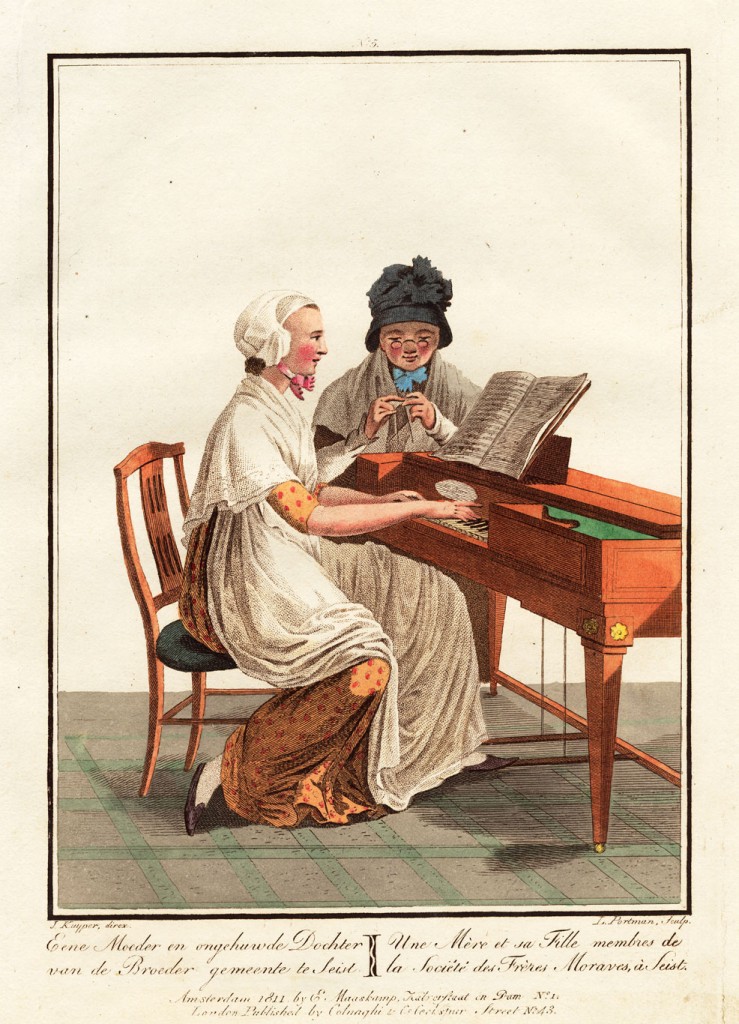 From E. Maaskamp, engraver, first appearing in 1808 and this print from 1811, we have 'Eene moeder en ongehuwde Dochter van de Broeder gemeente te Seist.' (A mother and her unmarried daughter, members of the Moravian Church in Zeist, The Netherlands.) This plate shows costumes of The Netherlands, early 19th century. The daughter is playing the square piano, possibly made by Meincke and Pieter Meyer.
Less elegant were the satirical commentaries on musical life in the country, where poor music was forced loudly on the neighbors, with all the mirth and gusto that could be summoned!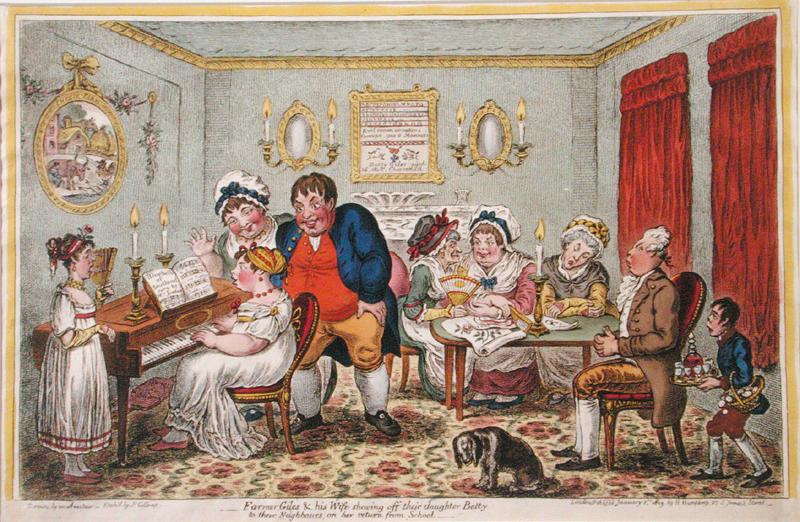 Here we have farmer Giles and his wife showing off their daughter Betty fresh from school where she has acquired enough skill at the piano to be annoying. The guests are glancing for the door, nodding off, or engaged in snide gossip.
And continuing the theme…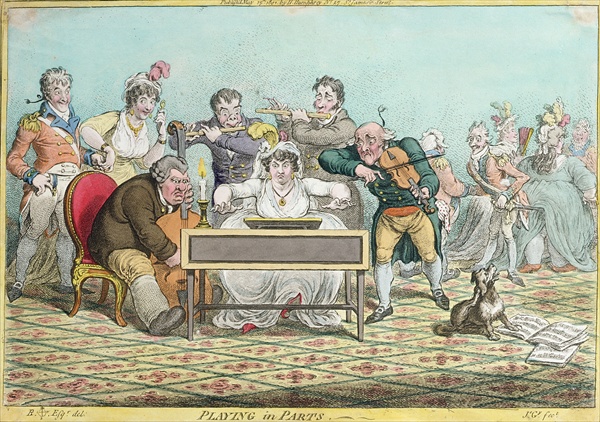 Here James Gillray gives us a country dance; at least here everyone seems to be engaged, though that lady at the piano is probably responsible for all those weak hammer hinges we find ourselves replacing today!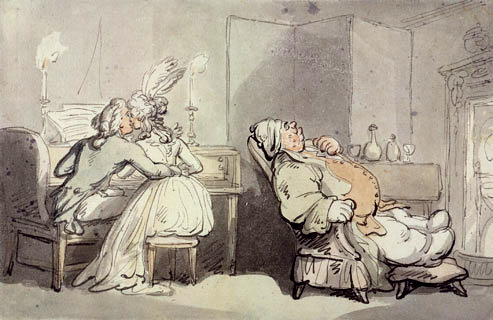 Thomas Rowlandson gives us the sentiment of the cuckold while the young musical couple engage at Bath. The instrument is a fictional morph though, so we'll want a little amnesty along those lines.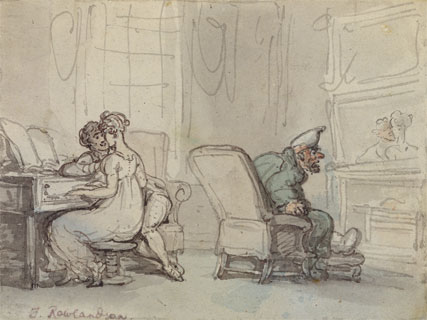 Our cuckold awakens and sees in the mirror how things stand! Let nothing distract you from your piano lessons ladies.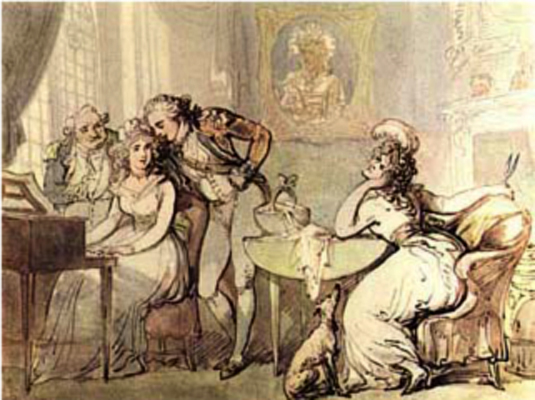 "Jealousy, The Rival", and once again Rowlandson shows us he is just making this stuff up, as no piano ever looked like that.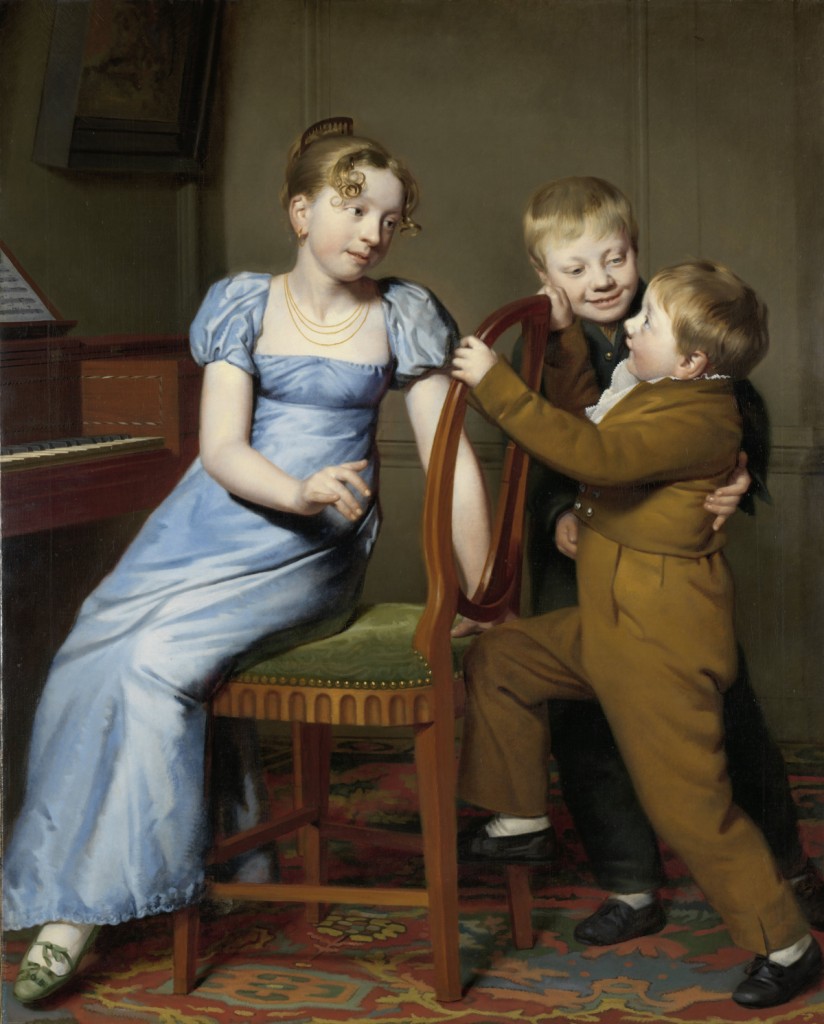 Dutch painting from 1813 by Willem Bartel van der Kooi (1768 – 1836).
The square piano is without doubt  a later Meincke & Pieter Meyer (Amsterdam), to judge by the typical Meyer-type of the inlay bands: diagonal black and white. This one is an example of a 5 1/2 octave, rather rare.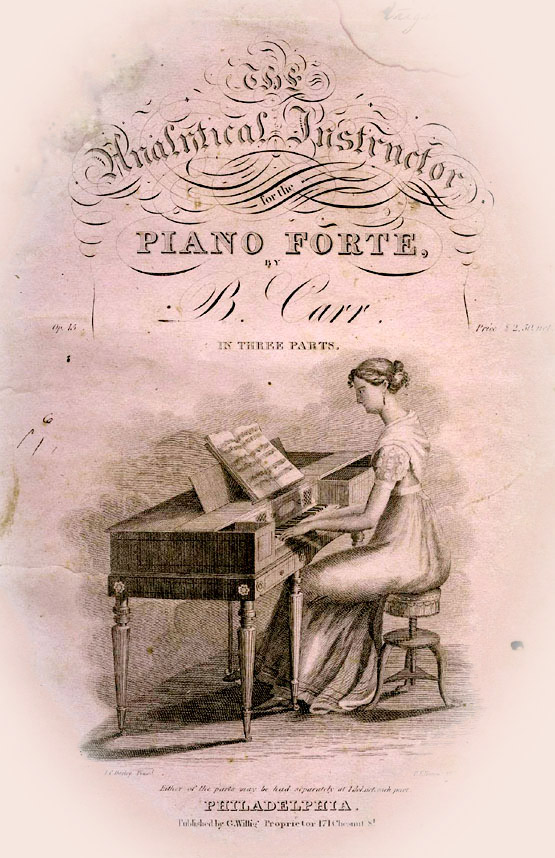 Square pianos can frequently be found on the front of period music, particularly when it's a book on instruction or scales. From Philadelphia we have here the "Analytical Instructor", published by Benjamin Carr in 1826.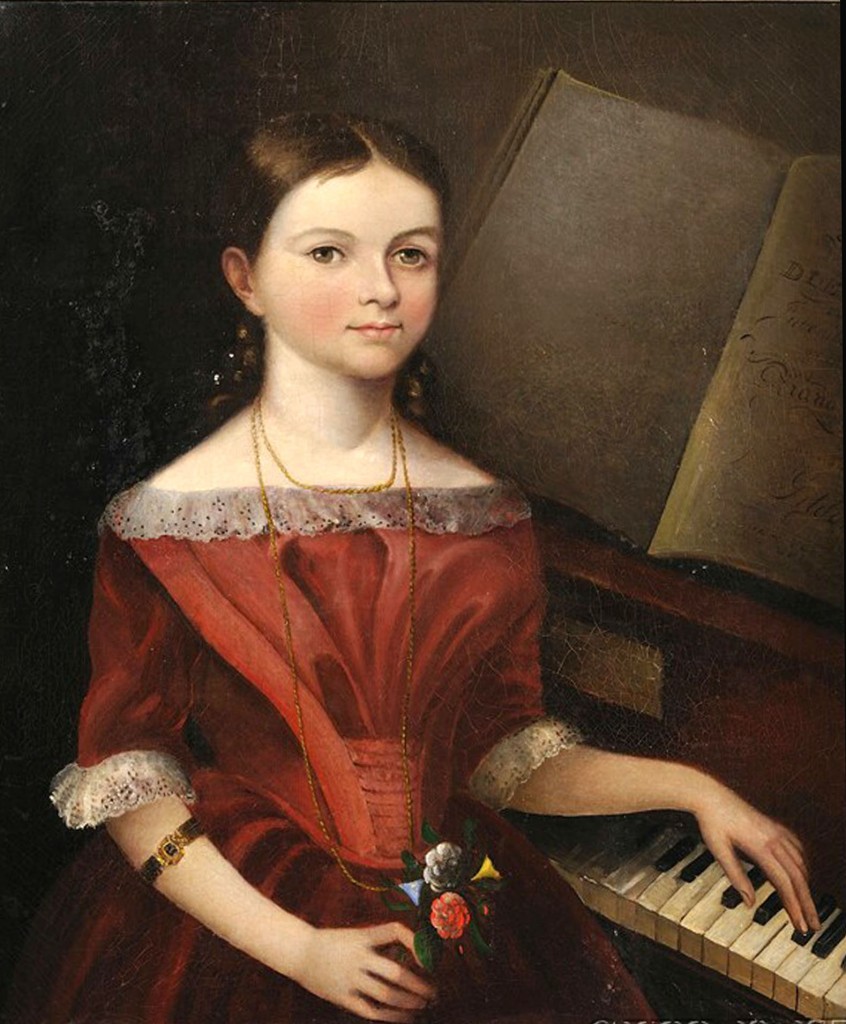 An annonymous American painting circa 1835 has a young lady in front of a contemporary square, and we can almost make out a name on the piano and some idea of the music open for playing. This semi-primitive piece demonstrates the importance of the piano in the home as American prosperity increased.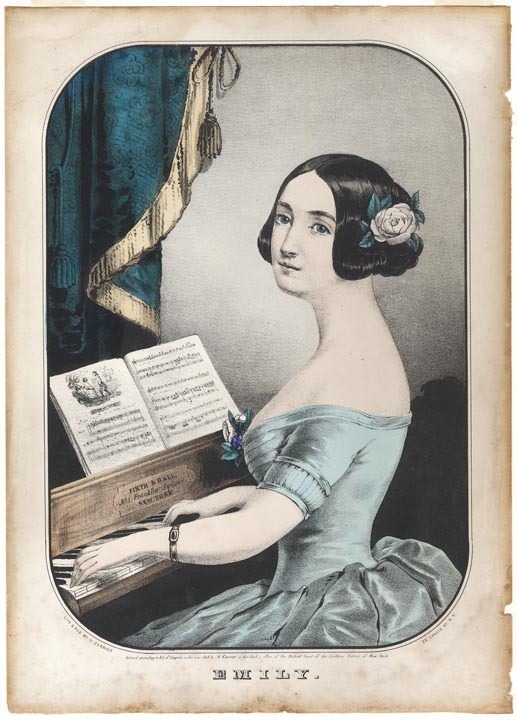 This sheet music leaves no doubt as to the piano's maker- Firth & Hall of NY, also music distributors.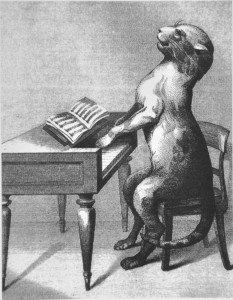 A somewhat bizarre image of a cat at the piano is taken from the even more bizarre actual subject of a stuffed cat posed at a small dummy piano for the Great Exhibition of 1851. The stuffed cat is long gone to dust, but this image of excess spare time spent wrong remains intact…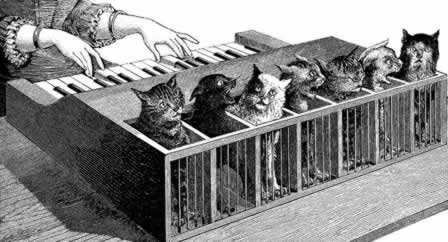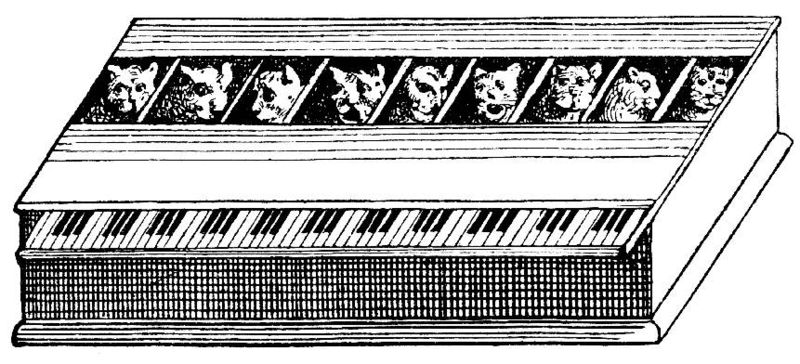 Then there are these two bits of inspired nonsense; certainly rather square, and obviously the cat's meow, but are they pianos? Well, supposedly they could play loud and soft!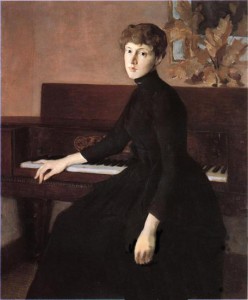 American impressionest Julian Alden Weir gives us "At The Piano" of a young lady in front of what was by then a slightly dated instrument from the mid 19th C.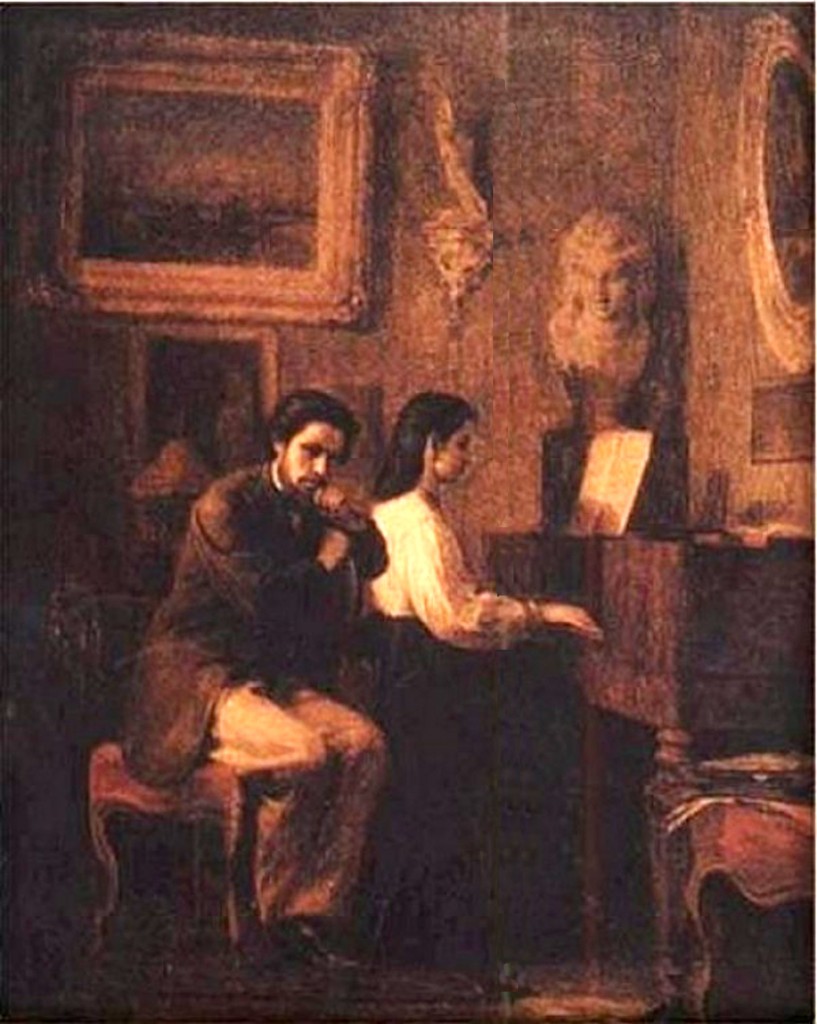 This fine brooding work by Nikolai Koshelev "The Music Lesson" 1865.
**************************************************************************************
The Danish artist Vilhelm Hammershoi (1864-1916) produced an extensive series of interiors of a Danish house, featuring a particular square of probable Northern European origin. The following is a selection from this series.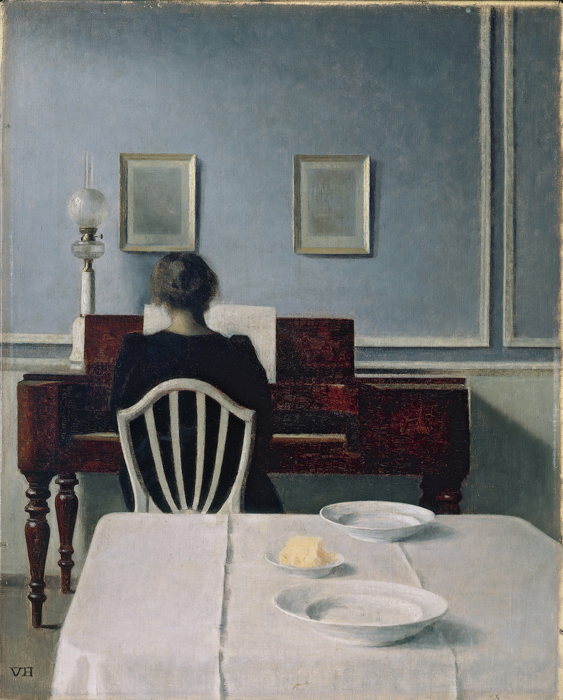 "Woman at the Piano"
"Woman by a Piano"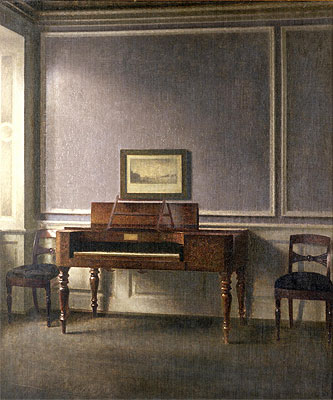 "Interior, Music Room"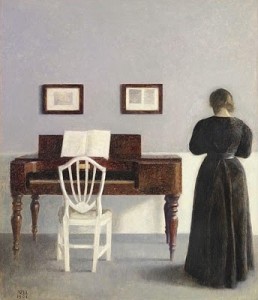 "Woman by a Piano"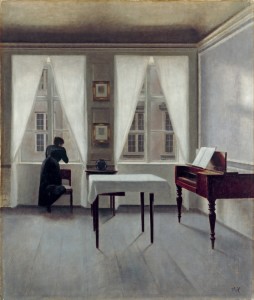 "Interior"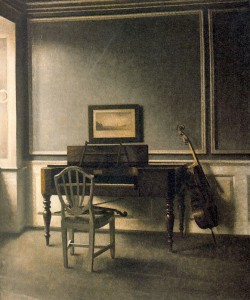 "Music Room"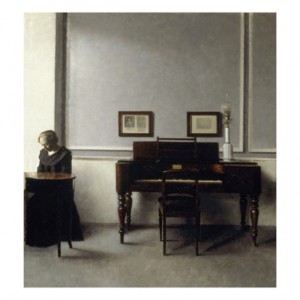 "Interior"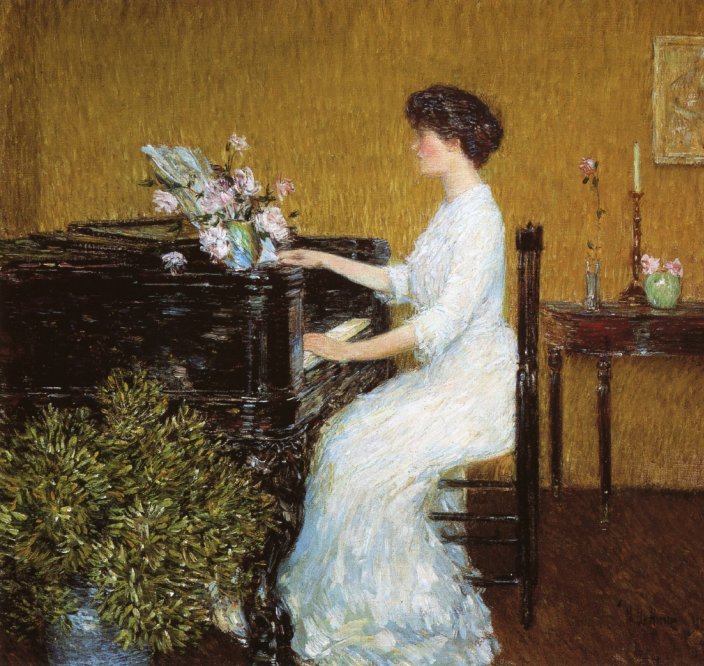 American impressionist painter Childe Hassam presents "At The Piano" circa 1908, in this case an full size American square grand. The title for paintings of 'at the piano' was popular throughout the period, though often the instrument shown is an upright.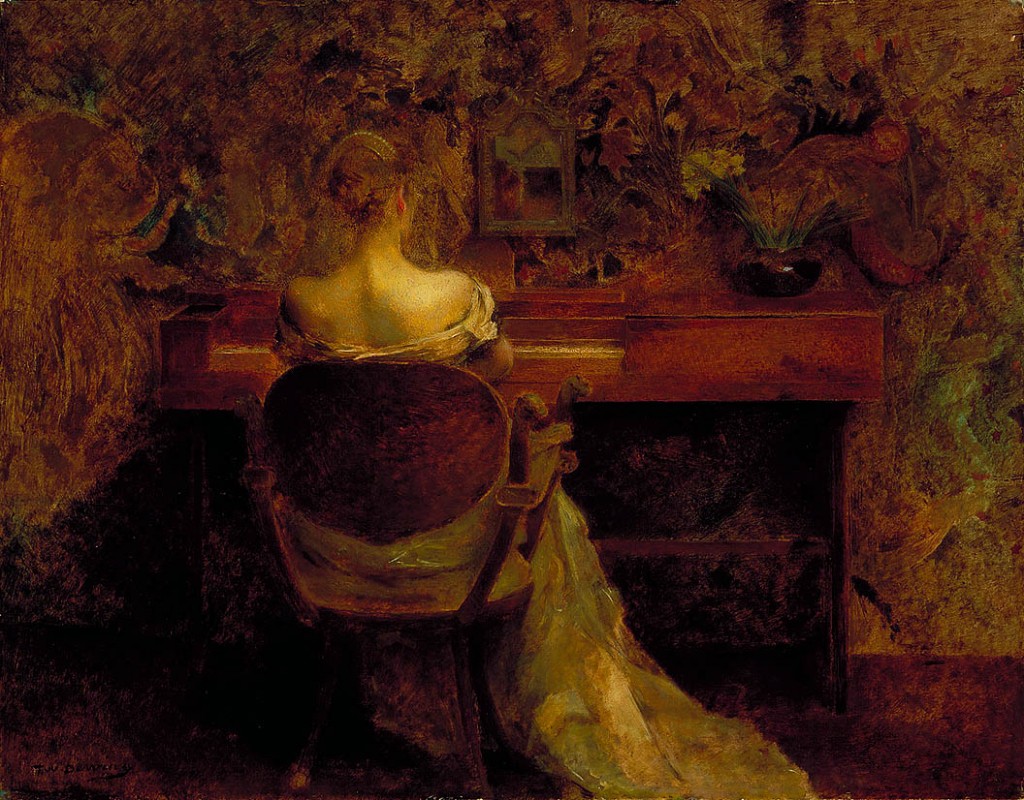 Thomas Wilmer Dewing, "The Spinet" ca. 1902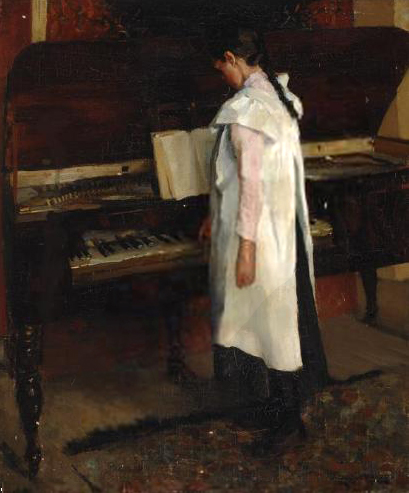 Jacob Dooijewaard, "Girl by a Piano". Artist 1876-1967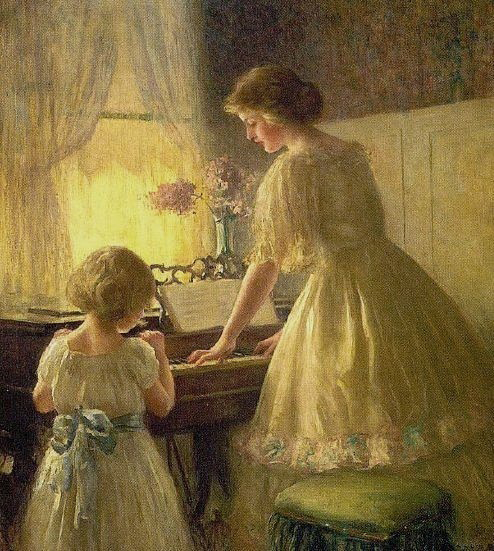 Set in romantic lighting, we here have Francis Days' The Piano Lesson.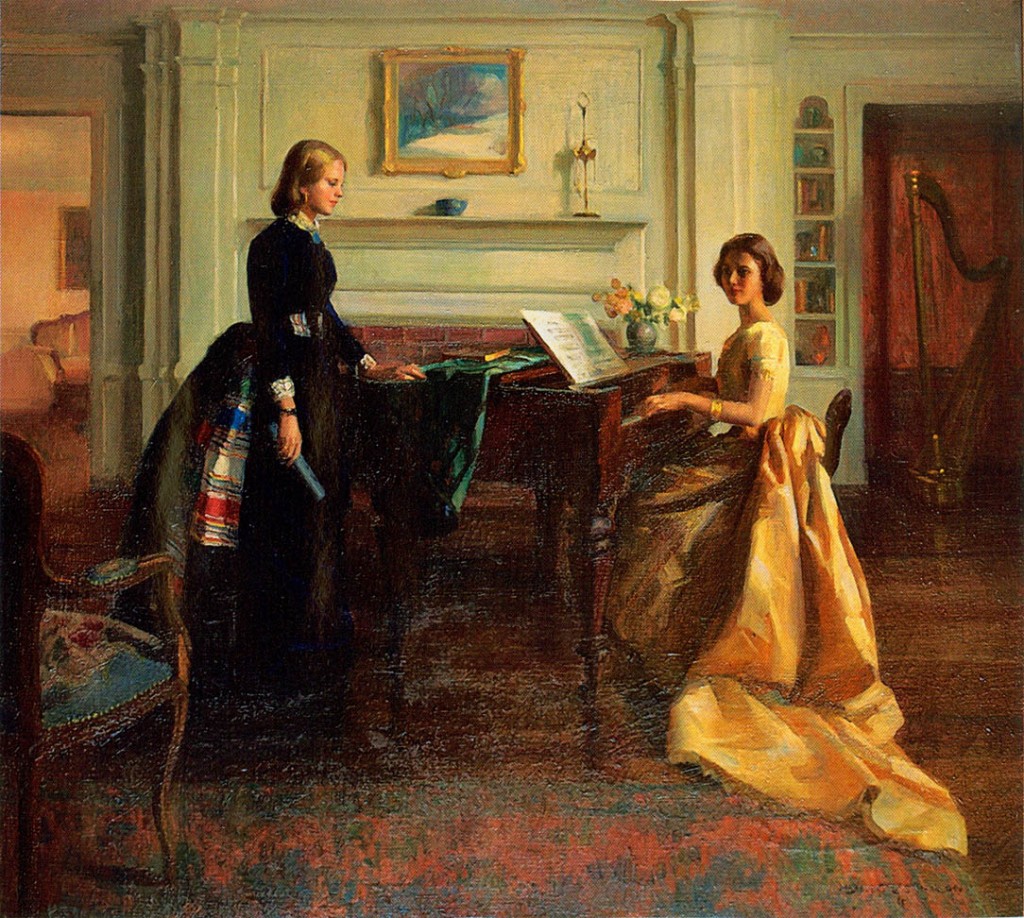 Marguerite Pearson of Boston produced "Prelude" in the early 1920s. Her early career was devoted to interior subjects of languorous young woemen as in this painting. the subjects are models, the approach still a bit stiff. The piano in this case is from about 60 to 80 years earlier than the painting was made. Such durable objects!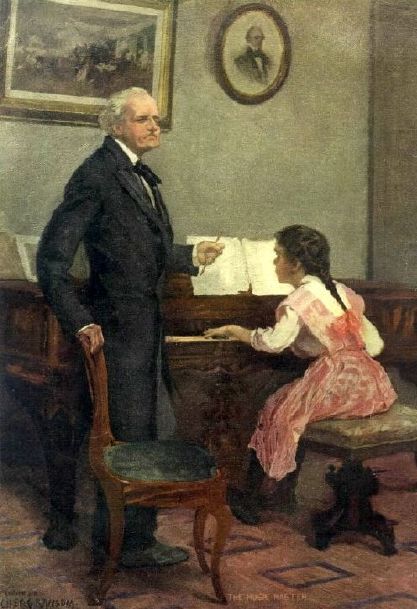 From the American Fletcher Charles Ransom comes another version of "The Music Master". Our young pianist is staring a hole into the music, and overwhelmed by the instrument!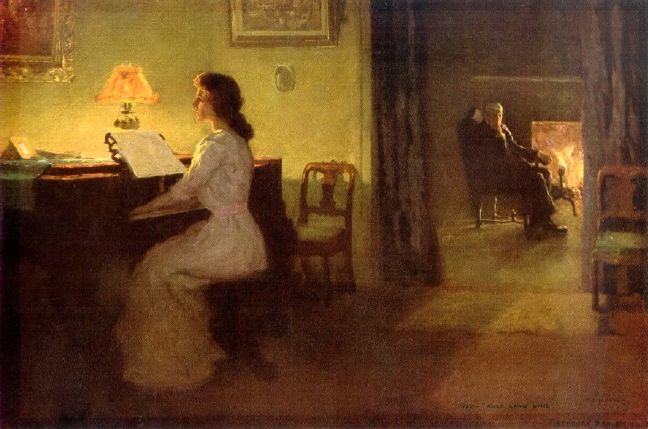 Also by Ransom, and a full sentimental expression with "Girl Playing A Piano".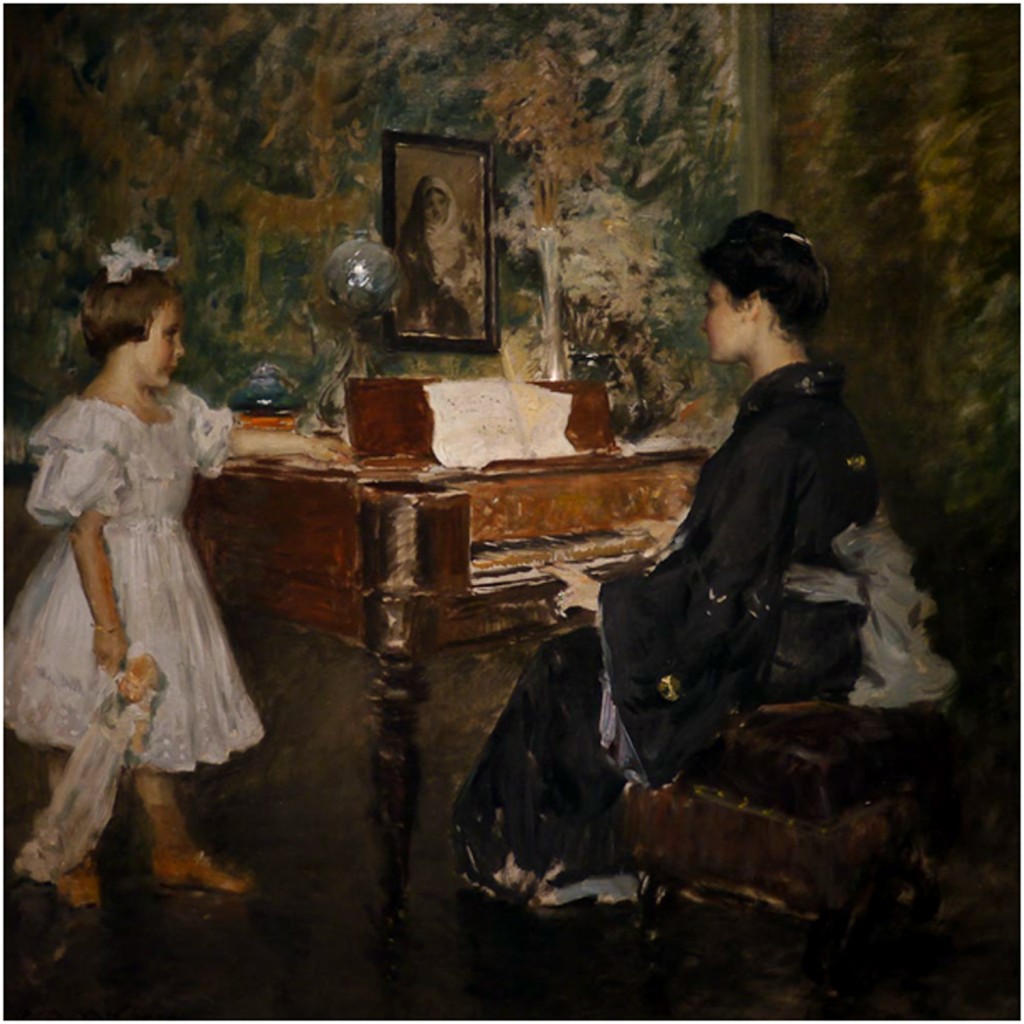 William Merritt Chase leaves us an Impressionest "Music Lesson". I think this is a square piano but really, it might be a grand, so be advised. Beautiful in any case.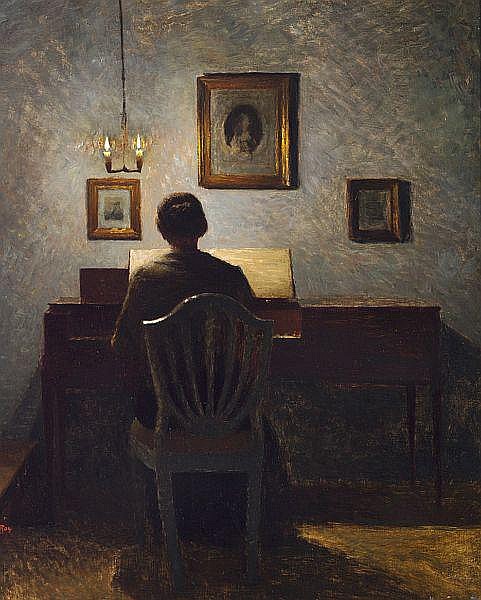 From Peter Ilstedt, 1904, "Interior with a Lady at Her Spinet, Evening Light", we find a Danish (?) lady at her piano from at least 100 years earlier, in a non-romanticized setting, so we can assume she is simply going about her business. Curious how much life these early instruments had in them!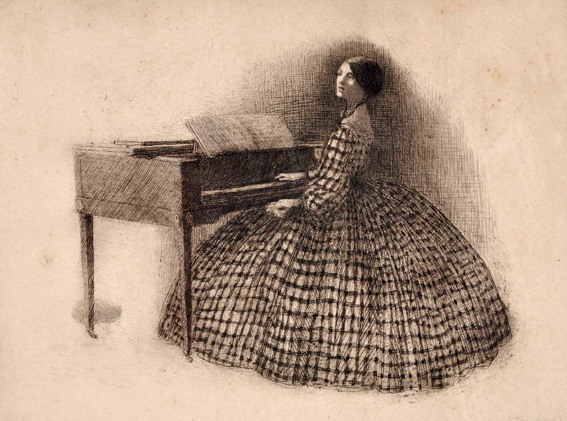 From C. W. Johnson, this etching of a girl at a spinet (in mid 19th C dress it seems, but in front of a late 18th C piano), signed and dated 1915, p 6.75″ x 9.25″ and impressed by W Livermore, mezzotint, 'a cafe in Cairo', signed in pencil No. 23/35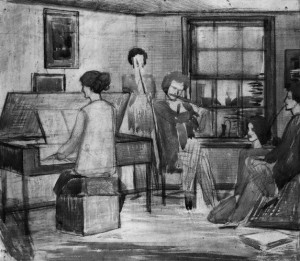 From 1913 this modern concept from Paul Nash. One wonders where they came on a working early square from so late a point as 1913, yet before regular restoration was underway. A recent Ganer at Piano Auctions though bore a restoration date of 1913. It was all the rage apparently! Looks like a flute and some other woodwind with piano, an unusual combination.
Towards the end of the 19th C, a period of 'romantic historical perspective' invaded the thinking in the UK, and serious artists produced a series of paintings that made use of the square piano and empire garb to evoke the past in a way that could be quickly understood. Among the best at this was William A. Breakspeare, and we have below several works that he produced featuring square pianos.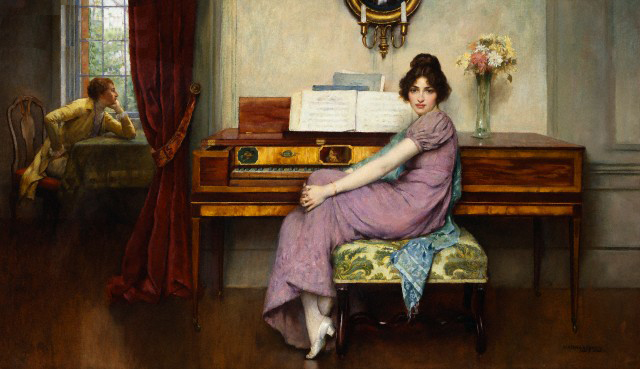 In "The Reluctant Pianist" Breakspeare gives us a young lady (he would use the model in dozens of paintings) gazing in our general direction, seated in front of , but definitely NOT playing her piano. Her husband sits at a table looking out the window and staring distractedly. The lighting is flat and the scene chilly and tense. Something is not right in this household, and possibly this is a metaphor for a marriage without love. We will see the same piano used again, but it has a somewhat fanciful look about it. The medallion in the center appears to be that of another lady, actually playing her instrument. Not so reluctant as our heroine!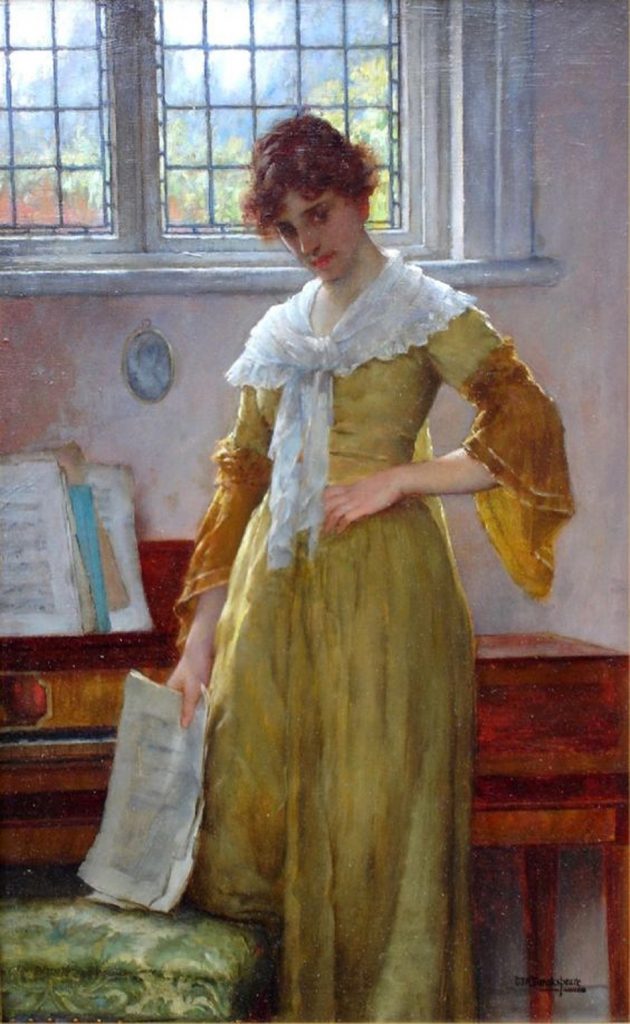 In "The Pianist" we see our piano yet again, and this young lady has music in hand, so we can expect some concertizing has just occurred, or is about to.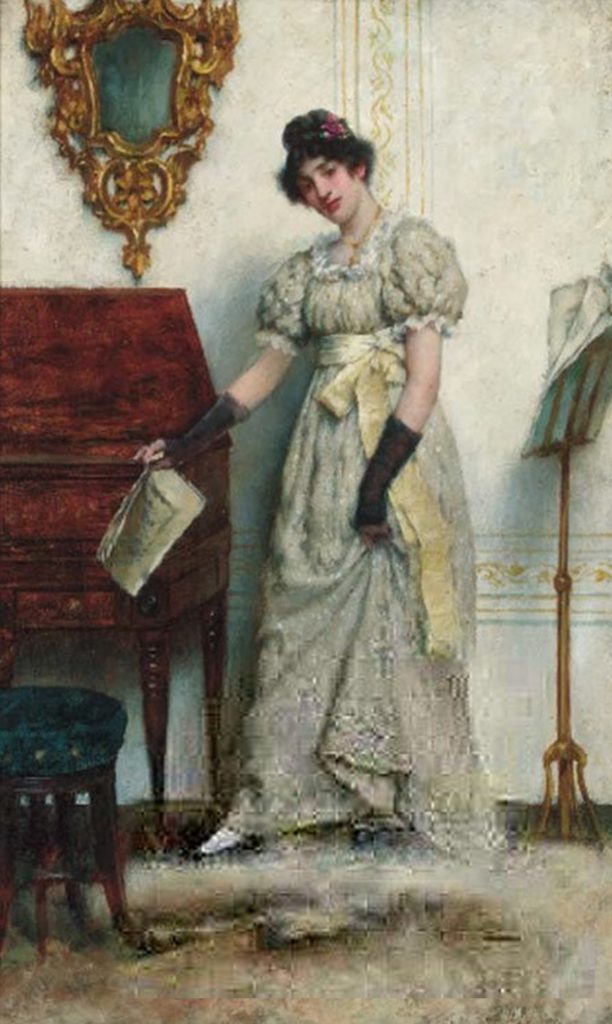 Though we can only bring you a lower resolution image, here is "The Musician" with a different piano, though square to be sure.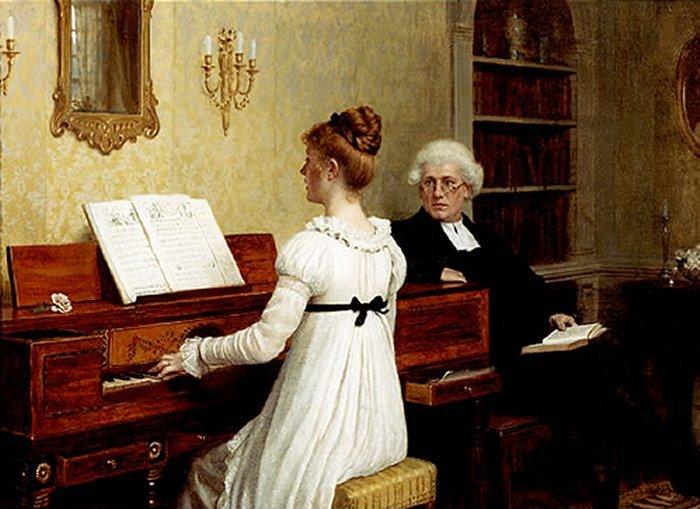 This painting is by Edmund Blair Leighton, variously titled "The Piano Lesson', 'Songs of Other Days", and "Playing for the Parson". We are assured by experts that the piano is probably by John Longman or William Rolfe, as both instrument names were made in the same shop. But what do 'experts' know sometimes, for in fact there is no reason to think that Rolfe and Longman had anything but a passing acquaintance. Their pianos are certainly entirely different inside.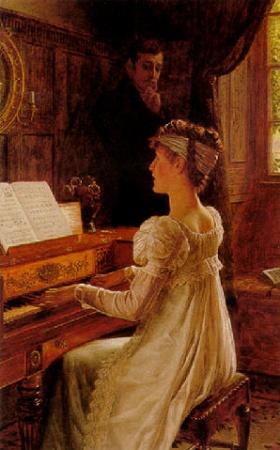 Probably the same model finds herself in front of the same piano – but a very different room. And in place of a sour old parson, we now have a young man who is sizing the situation up with approval.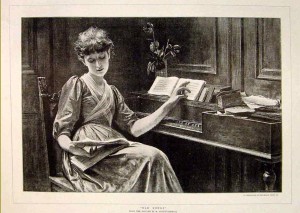 Lucy Coad has a copy of this print hanging in the restoration workshop, "Old Songs" by Poetzellberger.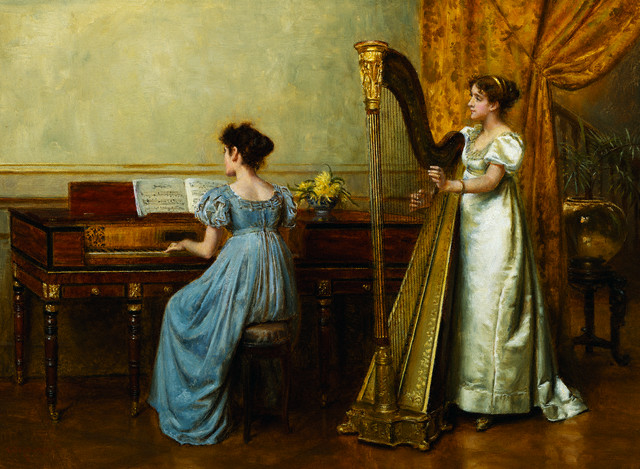 We turn to George Goodwine Kilburne's "The Duet", recently used on the paperback cover of "Mr. Langshaw's Square Piano" by Madeline Goold. The square looks a bit like a Clementi to me, but is typically English. It's a real model, as we see below for it returns…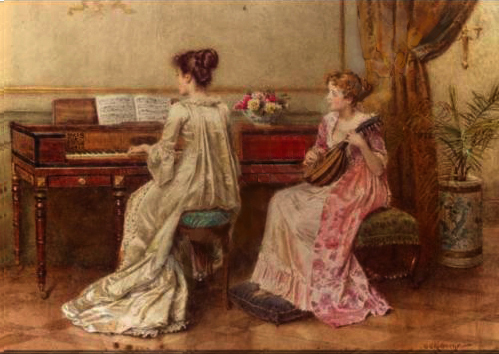 The same young lady returns to the same piano, with a different duet partner. And to the far right, where did the stairs go?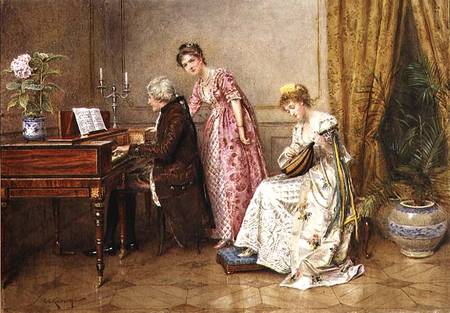 Our young lute player has changed dress with the pianist, who now intends to sing to the accompaniment of the gent in the powdered wig. But the piano remains in place, the curtains are draped lower, and now appear to cover a window.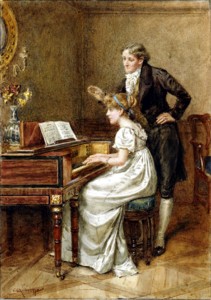 Our piano again, now under the title of "The Music Master", and a change of cloths it seems, though the gown looks like what our harpist was wearing to me. Is that Mr. Leighton's mirror we see?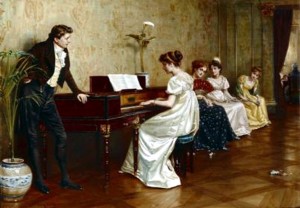 Above, and the next two paintings are are titled "The Recital". Note the similarity in gowns and of course, our little square piano throughout.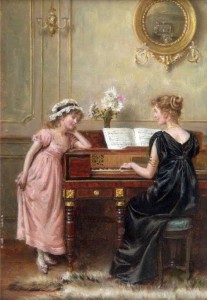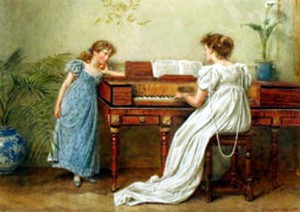 Very similar poses, probably the same artist models at work.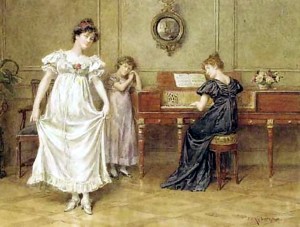 "The Dancing Lesson" and the mother daughter pair, with an added figure dancing. The black gown returns!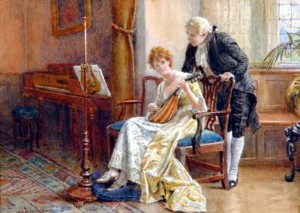 In "If Music is the Soul" the music at least continues, though we have moved from the piano.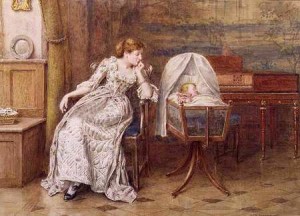 A baby has come into the family ("A Mothers Love"), so all that music made their togetherness a productive effort. Our piano now sits quietly in the background.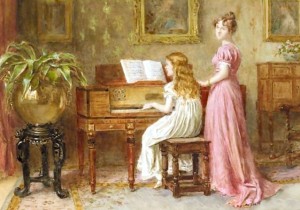 Titled "The Music Room" this one is purportedly by Kilburne as well, but the proportions of the piano and details of the painting are not similar, and the piano is awkwardly drafted. I suspect a copycat but could be quite wrong. It's our same little piano though, no doubt.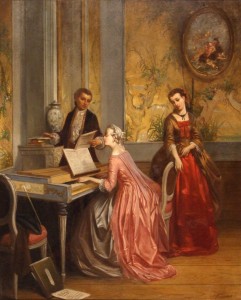 We occasionally encounter pianos from the Continent, where particularly in Italy little painted squares with crude Viennese actions were plentiful. From Willem Florents comes this late 19th re-imagined scene "Musical Interlude" with such a piano.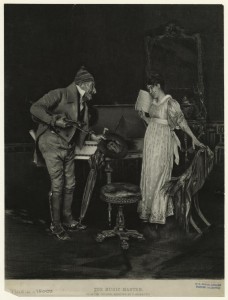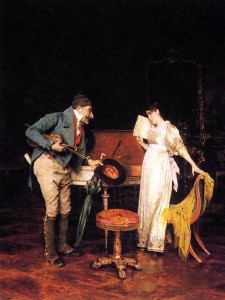 Andreotti Federico "The Music Lesson" as an etching and the painting, again with a little Continental piano.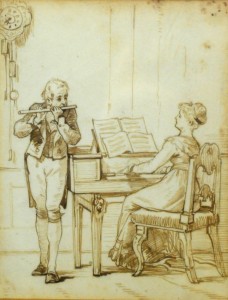 From George Du Maurier (1834-1896) "Duet". Not a proper square piano but we get the point.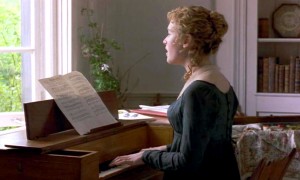 To complete our tour (for the moment) we have Kate Winslet from "Sense and Sensibility" at the Broadwood square. Supposedly Col. Brandon had 'finally found one small enough to fit your parlor'. Who knew it had such sound, for in the movie as Kate starts to play the sonority of a Steinway D fills the air. Not bad for a piano that would have been over 30 years old when dear Brandon went to the trouble of procuring it. But the picture here is pure art!