NEW (Read through)
Our friend Graham Walker was at Finchcocks to give a talk on his work to develop a suitable leather for square pianos. His overall impression is that an ideal hammer cover probably involves an animal no longer much in demand today, and a process not much in use! That said, he feels that analysis has led to the conclusion that the hair sheep (of which there are many breeds!) is very close to the leather we find, and that following traditional tanning processes, the consensus was, as we state in the body of the work below, that a resilient but not very stretchy leather, generally harvested from the middle of back or belly of the skin, with about 1/2 of the thickness as the grain, and the other half as the fiber, is a very near replica to original material.
I have had good success with a brain tanned deer in America as below, and also brought along samples of brain/smoke tanned young and older deer with the grain removed. Jason Leninger remarks that by removing the grain, a greater densification of leather can occur during tanning that gives some interesting results. We do find examples of later English pianos and Viennese pianos with grainless leather outer coverings. Jason is working in America on this problem, and once we have concluded some discussions we can see what is possible to offer to the general restoration community.
Our recent trials of Graham's leather went very well I thought. Below is a representation of the leather, which is a close color match to the better condition leather on my 1791 Broadwood grand. The actual color is a uniform light brown, coffee and cream if you will.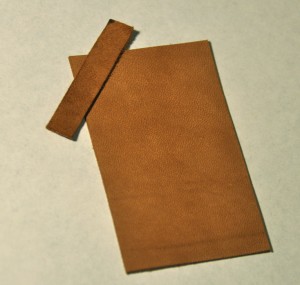 The sound was, in my opinion, better rounded than with the deer covering I was using, and the brightness can be adjusted by tightness of wrap on the hammer core. I used both buff side and skin side out in trial, and I liked the skin side out for this grand, which of course is the orientation of the original leather. Listen to these sound samples and decide yourself, but note that this is only one instrument and varying results can be obtained by experiment. I play the Deer only first, then, with HS covering only on g1, c2, e2, g2, c3 I alternate between Hair sheep and Deer in the second audio. Thickness of the leather in question is ~0.92mm uncompressed, ~0.75 mm fully compressed. Graham advises that leather will be available in the future in 1/2 and full skin quantities, so that the proper sections can be tailor cut for your application.
Graham Walker can be reached through his web site http://earlypiano.co.uk/
A short discussion of the challenges of re-leathering your square piano hammers and a general discussion of leather options is found here:
Tanning and Hammer Recovering
http://amohkali.com/files/tancourse.pdf
Graham Walker submits the following proposal of work on this subject.
A new initiative to produce hammer covering leather
The leather used by piano makers in the late 18th and early 19th centuries for covering hammers is no longer available.  Therefore, if it is necessary to replace, an alternative needs to be found that has similar properties to the original.  The choice of replacement leather is critical to the tone of the instrument.
It is difficult to be definitive about the exact tone that was intended by the maker. The two main reasons for this are that the original hammer coverings will have changed from playing the instrument and the leather will have aged and become hard, porous and dry. These changes will have affected the quality of the leather and therefore also the tone of the instrument.  Given these circumstances it is inevitable that there are differing opinions about tonal character and the original intentions of piano makers. It is possible that our familiarity with the sound of the modern piano clouds our perception of how an early piano should sound.
Informed judgement needs to be taken about the leather that is used for recovering hammers.  Hammer leather should have the qualities to enable a wide dynamic range and have sufficient elasticity to be tensioned over the face of the hammer in a controlled way to enable a balanced tone throughout the compass of the instrument.  Apart from the quality of the replacement leather, the way in which the leather is applied to the hammer core is vitally important to the sound produced.
Suitable quality leather is almost impossible to find from current commercial sources and many professional restorers are desperate to find a new source of supply.  Therefore, a new initiative has been taken to replicate the principal types and qualities of leather that were originally used by piano makers.  This is being undertaken in liaison with a specialist in the UK leather industry who has already produced authentic historical leathers for various other disciplines.   Samples of bespoke vegetable-tanned and oil-tanned leathers are being produced based on a range of the original leather fragments. The specialist is committed to this initiative and has the resources available to put into commercial production leather that is found to be suitable, if there is a demand to do so.
This initiative to produce hammer covering leather is intended for all types of early pianos but at present it principally covers hammer leather for English grand and square pianos of the late 18th and early 19th centuries.
The leather that has been identified at present for replication includes:
A replacement for the vegetable-tanned sheep leather used for the outer covering of early instruments from the 1760's to about 1795.
A replacement of the oil-tanned leather (buff-leather) used for the outer covering of hammers from about 1795 to 1835.  (The nearest leather currently available is supplied by Herzog in Germany and Kendlbacher near Vienna.)
A replacement of the vegetable-tanned and oil-tanned leather used for under leather.
Similar qualities of these leathers used as a cushion within various parts of the action and keyboard.
Original hammer covering samples have been tested in a laboratory to establish generic tanning method and the animal from which the leather was produced.  New leather samples have been made using 18th century tanning processes.  It is not necessarily the case that the same quality of leather can be produced from the same animal skin used originally as both the animal and conditions have changed.  It is more important that a type of animal skin used today best produces the quality of the original leather.  Further samples of leather are being produced over the next three months.
Leather that shows some merit for recovering hammers will need to be extensively tested before any commercial production could be undertaken.  The production of leathers can only be achieved with a collaborative effort between makers and restorers and the leather industry.
The support from makers and restorers to this initiative has been encouraging and I would like to thank those restorers who have provided me with fragments of original leather taken from period instruments, and given feedback on the new samples produced so far.  I would welcome from restorers any original pieces of hammer covering leather particularly from Viennese instruments so that a thorough analysis of the original leather can be completed.
An update to this article will be given as and when further progress is made.
I would welcome any comments or samples of hammer covering leather you may be able to provide. Please contact Graham Walker, Dorset, UK.  Email: graham@earlypiano.co.uk